WhatsApp is the most popular and highly used Messenger application. The popularity of WhatsApp has been increasing day by day. This messenger application has dethroned many messengers in the market right now. Since its arrival, WhatsApp is considered the safest and secure application for messaging.
You can add a profile picture that is visible to your contacts, everyone, or only selected contacts. After the new updates, you can add status (story) on WhatsApp. The privacy of this status is under your hand. In recent months, WhatsApp has become quite dangerous in terms of security. The recent update created a lot of buzzes after some privacy rules were objectionable.
As a parent, you want to be sure about what your kid is doing on WhatsApp. You clearly do not want your kid to get stuff that is not for them. Unlawful and immoral activities are performed on WhatsApp such as Shaming, ragging, eve-teasing, etc. It is your responsibility that your kid does not get involved in such things.
An employer has the responsibility on his shoulder to manage the subordinates. You don't want your subordinate to take time by chatting on WhatsApp. The business secrets should remain secrets. You have to keep an eye on the secrets revealed by Employees.
WhatsApp tracking application is the one in all solution for these issues. You can use the MobileTracking application to keep an eye on the WhatsApp account of Target's device. Direct access over all the chats, calls, documents shared, and media of WhatsApp.
There are some unique features of WhatsApp tracking applications. WhatsApp tracking is not an easy job. The application is here to get the job done for you. Here are some features of WhatsApp tracking applications.
Features of WhatsApp Tracking
Direct access over shared media: WhatsApp is used for chatting and sharing information on chat. Also, you can share media like photos, videos, documents, and links on WhatsApp. You can get direct access over the shared media without any hint to the WhatsApp user.
Look at chats: The use of WhatsApp is mainly directed towards having conversations on chat. If you want to look at chats, WhatsApp tracking applications can help you out. You can get access over every single chat on WhatsApp after tracking the account.
Call Records: WhatsApp allows you to call another person for free after charging justified internet costs. You can take a look at the call records. It will help you to know with home your kid, partner, and employee are talking to.
Contact list: You can add as many contacts on WhatsApp without facing any restriction. Once you track the WhatsApp account, you can look at the contact list of the WhatsApp account. This will provide a clear picture of the contacts that they frequently contact by the account holder.
Time and date of snaps: WhatsApp keeps a record of all the messages and chats on a daily basis. Each and every message which you send to a particular contact is recorded its time and date. You can look at the timestamp and date stamp, and it sends once you hack the account.
These are some major features of WhatsApp tracking applications.
MORE 10+ WHATSAPP TRACKER FEATURES
How to Use WhatsApp Tracker?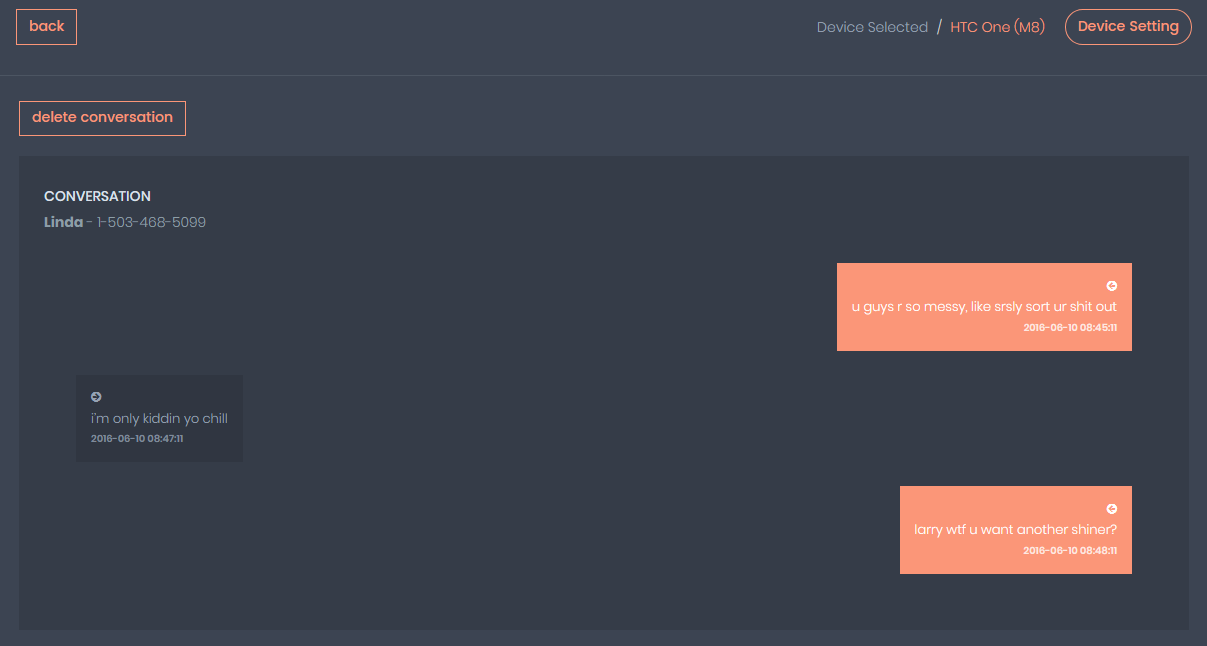 You do not have to be technically sound to use the WhatsApp Tracker. You have to follow the basic steps which are provided and track the WhatsApp account. All the steps in proper order and sequence, the WhatsApp account will get back easily.
Step 1: Download WhatsApp Tracker

Download and install the WhatsApp tracking application on the Android mobile at app.mobiletracking.app. After you provide all the permissions, you will need some personal information to complete the registration process. And move on to the next step.
Step 2: Log in
You have to enter the previous data for signing up. You must provide complete and accurate data without any flaw.
Step 3: WhatsApp Tracking
After you have logged in, you can start WhatsApp tracking easily. You get direct access over chats, calls, and media shared on WhatsApp. This will make it easy for you to view all the activities that happen regularly over the social media platform. It will also enable you to see the location that they share with other people.
Conclusion
We hope that this article will provide you with the necessary information needed.