We all can agree that Social media have provided personal space to kids. Also, partners can do some things which can tear apart their relationship. Facebook, the biggest social media platform, has been in the news for years. On a general stage, Facebook is the biggest social media platform that can be used by anyone. There are many features that Facebook offers.
You can share your personal life through Facebook. You can share photos, videos, your views and use them for entertainment. There are many promotional accounts that can be followed. You can have friends on Facebook who will comment and like your posts.
With every good feature, there is a threat to humans. Facebook provides a general ground for each and every user. You can follow people, talk to them, share personal information, etc. This can be misused by kids, partners in a relationship, employees, and others.
Facebook can be useful for earning money. You can earn money through lawful things. The guidelines issued by Facebook are to be followed. However, the world is not kind to Facebook too. Unlawful activities, offensive posting, hurtful comments are very common on Facebook.
Also, adulthood is cherished by Teenagers on Facebook. To restrict your kid from doing this, you can track the Facebook handle. Yes, you can hack the Facebook handle without even leaving any hint. The owner of the account will not get any clue about tracking.
You can use the MobileTracking application for hacking Facebook accounts. There are a few steps that are supposed to be followed. There are many features of these Facebook tracking applications. Let's take a deeper look at the features of Facebook hacking applications.
Features of Facebook Tracking
Access over Direct Messages: Facebook is used by the majority of teenagers. This age is for love and affection, which many people find on social media platforms. Facebook is quite popular amongst teenagers, partners, and employees. You can look at the messages which they send and also look at the content of the message.
Look at posts: Facebook is pivotal for posting media like photos and videos. You can get access to the photos and videos that people post. Many people share posts with tags and the location of the photos. You can take a look at the location of the photos and tags.
Chat media: Facebook is the most preferred social media platform by teenagers. They share inappropriate photos and videos on personal chat. This tracking application will provide you with access to the shared media. You can look at the media sharing with friends on Facebook.
Friend list: Facebook is useful for meeting new people and share the moments of your life. You add new friends and know more about them. With the help of a Facebook tracker, you can see the list of friends. You can have a look at your friends and their daily status.
Time and Date Stamps: Facebook will provide you with the activities performed with time and date. Note down at what time the person posts a photo or sends a message. The timestamp will help you to confront the target person face to face.
MORE 10+ FACEBOOK TRACKING FEATURES
Steps to Track Facebook Messages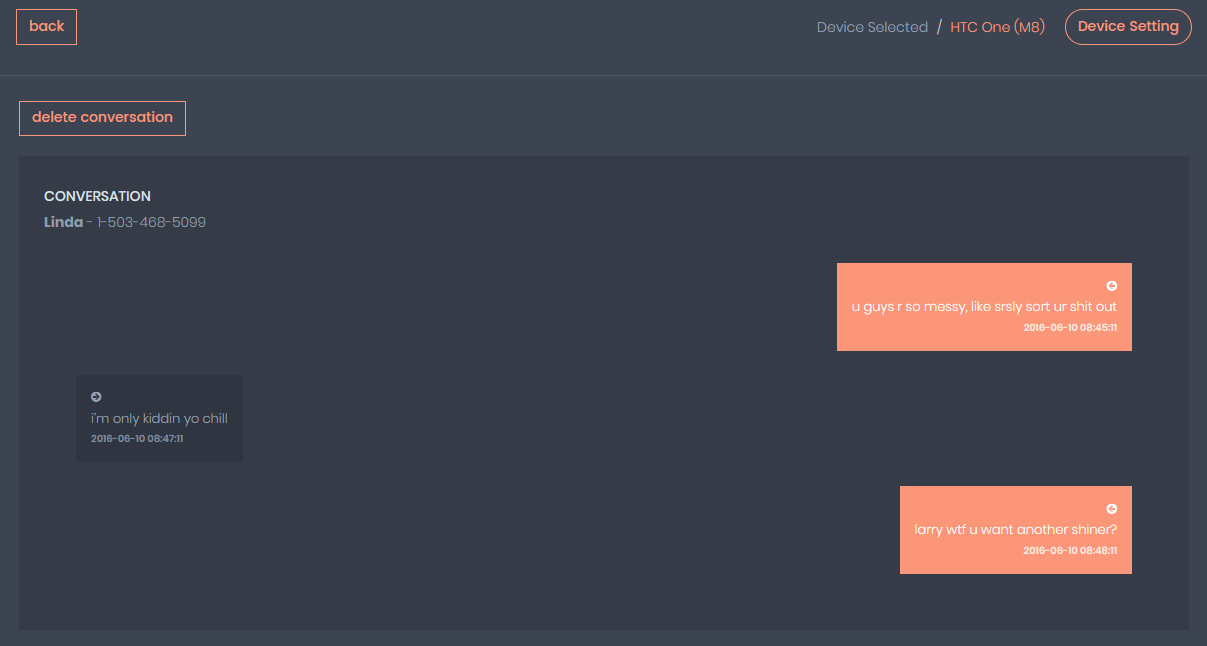 Facebook tracking application is very easy to use. You can use the application easily with proper knowledge. There are no tough steps that you must follow. Basic information about how to track the Facebook account will be enough to get access over Facebook.
Step 1: Download Facebook Tracker

In order to start tracking your Facebook account, you have to download the application on the target device. Once you download the application by using a link on the official website, install it at app.mobiletracking.app. Provide all the necessary permissions they ask you during registration by providing necessary details again.
Step 2: Log in
You have to log in yourself again by entering the required details for registration. Once you enter the data, you can start by tracking down the Facebook account.
Step 3: Facebook Tracking
You can track the Facebook account and get access to shared media, posts, comments, etc. The account user will not get any clue if someone is hacking his/her account.