Way to track SMS without them knowing

While searching for spying techniques on internet did you find something interesting? No! Then here you will because we know what you need- it's the Free SMS tracker that will make you go like wow! This is amazing! That's one app for which you were waiting since long. Your wait is over here! The Free SMS tracker is the amazing software for all those who have been dreaming of knowing the secret conversation of their friends. Now, there secret conversations or SMS is not a secret for you anymore. The tracker will disclose all that they have been hiding from you since long.
How it is amazing? Don't worry we will tell you about its secret revealing qualities. It is completely trustworthy and reliable unlike your bae.
What is a free SMS tracker
Getting started with its introduction, the free SMS tracker is a tracking application designed to follow all the activities of different gadgets in real time. It can surveillance gadgets such as laptop, smartphones, computer and tablets. Many such trackers are available which works best. However, they differ in features and their ability to notify the users in real time. A basic SMS tracker is capable of doing following things:
Access the SMS in real time
Screenshot the messages and send the user
Capture the senders details
Capture the time and date
Notify the user whenever a particular user is communicating with victim
These are basics and almost all SMS tracker can do it. It depends on the policy of handling the personal information of the user which determines their reliability. So, it is suggested not to trust any tracker you get on market.
MobileTracking – The master of all SMS tracker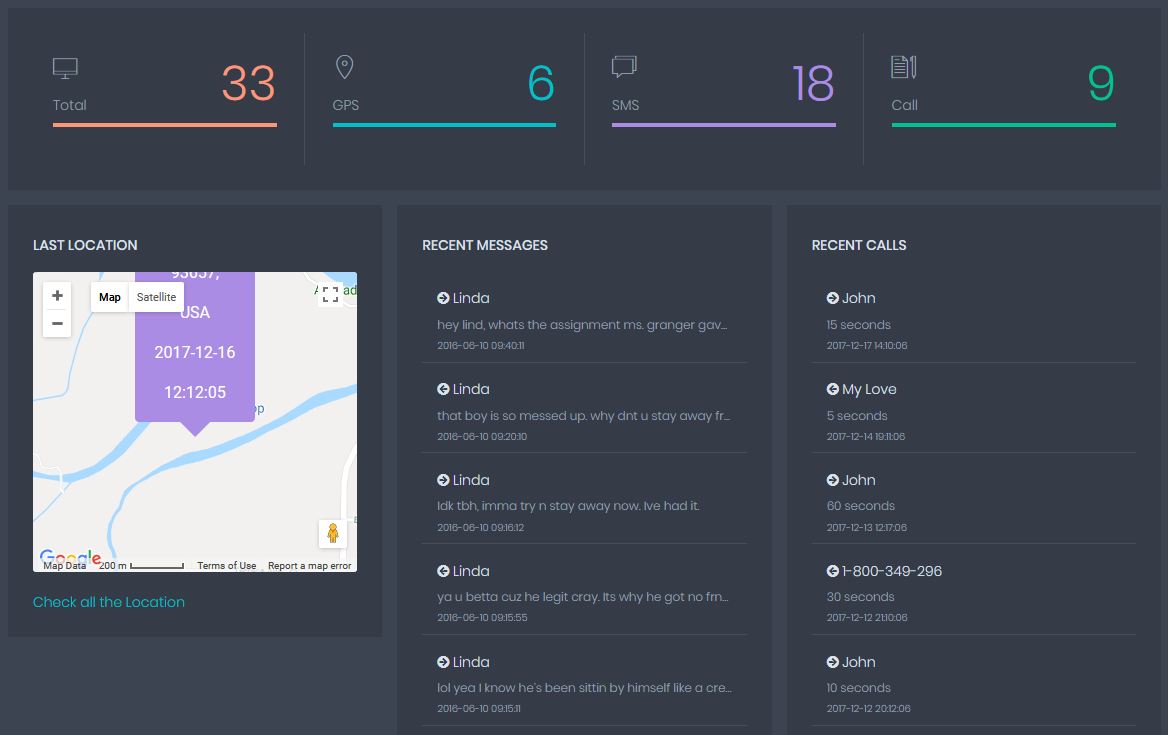 We have a MobileTracking App that is not just a SMS tracker but a complete pack of spy tools. It is a call tracker, GPS tracker, WhatsApp tracker, Facebook tracker and many more. Surprised! Yes, it's that good. Can't wait to know its name! It's MobileTracking!
MobileTracking is the best trustworthy and reliable app that is your secret spy software to trace anyone's information in seconds. It is trusted by hundreds of customers using it. Embedded with remarkable features, phone tracker is exactly what is best for different purposes like spouse monitoring, employees monitoring, tracking kid's location and finding lost phone.
Dive into the notable features of MobileTracking
How it does so many things? The incredible and impressive features of MobileTracking make it the masters of all apps. Let us dive into the world of spying with its remarkable features.
SMS tracker– the precise monitoring on SMS of your victim is the job of MobileTracking and it does it very well. It captures all necessary information you need to reveal their real face.
Call tracker- no need to buy a call tracker, MobileTracking is capable of tracking calls of your target. Its latest technology allows it to trace calls in real time and alert the user before the receiver picks up the call. You will be notified as soon as the call is made.
Call recording– every device has microphone and MobileTracking know how to use it. It turns on the microphone and captures the voice or conversation made through the device. The audio quality of recorded files you get is so clear that you will get a feel that they are talking near to you.
Ambient recording– the surrounding voice may be useful for you in tough situations when you don't trust anyone. Trust MobileTracking, it will send you the audio files with voice recorded around your target so that you can listen what their friends talk to them on your back.
GPS tracking– now, you will never stay away from them as MobileTracking will catch all their current journey positions. Your eyes will always be at their journey when phone tracker is with you.
Browser history– if you are frustrated with their internet surfing all day then knows what they search and block them. Check out the browsing history even if they have deleted it.
Block facility– MobileTracking will notify you about the apps they use most. If they are the reason behind your doubts then block those before things got worse.
All such features if wisely used then one can get enormous information about their target. Talking about its compatibility and price, let us tell that phone tracker is user friendly and compatible with all devices in market. It is free and installation process is simple. Visit https://mobiletracking.app and get this amazing software.