Get Best SMS tracker Hidden App to track text messages
Many people are indeed seeking for doing spy on text messages of the target person. Also, indeed, spying doesn't need you to touch the target person phone now and then. In this article, you will see all about the best spy tool that will work in a better way for spying on the text messages. This application is capable of extracting not only reading out the text messages but several other things that includes social media apps activities viewing, tracking location movements, calls logs tracking, viewing saved media files etc.
Mostly thinks that spying isn't possible, you must read the article and learn all about MobileTracking app. We know that 2 types of devices are available in the market such as android and iphone. The survey has revealed that MobileTracking app is the best one that one can use to spy on anybody's device and any OS.
MobileTracking is the free of cost available text messages and SMS tracking solution that has become renowned globally. This tool has helped numbers of people to clear all type of doubts that they are having. This application easily collects SMS from any device and delivers it to the app online control panel.
No doubt it is a superior SMS tracking app that don't enable a user to read the incoming SMS from smartphone but also helps in recovering old and deleted SMS from any target device. It is done by scouring the cell phone storage and gathers all available old and deleted SMS. Additionally the advantage that has made it a good app is a user can access it without even taking phone in hand.
App that don't needs rooting or jailbreaking of device
If you are tracking on iPhone of the target person and it is impossible to do rooting and jailbreaking for you, then you can use MobileTracking app. There is no other effective spy tool is available that can help you in doing spying without device rooting and jailbreaking. This app is easy to use and is having powerful interface. The application catches more data in less time than other spy tool.
About the application working
Activation of MobileTracking application is pretty simpler and faster. This application easily works on all leading operating system. It only demands internet connection and few steps to be followed by the user accurately without making any errors. To get access on this application a hacker has to follow the guidelines that we have listed down here-
Do essential settings- At first a user has to do the setting by getting into the Smartphone section named "Settings". From there a user has to enable the option of unknown source. This will permit a user to get the app installed easily without creating any troubles.
Create a user account- To create a user account; a hacker must register self on the application original website (https://mobiletracking.app). At the time of registration a user has to use right email address and password.
Download and install- Simply hit on the option "Download Phone Tracker" and start downloading the app. Hit OK to start the process of application downloading. Once the downloading is completed, open up the file that is downloaded. Now install MobileTracking app into the desires phone. After done with that, tap on "open" to open this application.
Login to monitor– Now use the sign-up information for doing the logging into the MobileTracking app account. From the control panel you can read out all the SMS.
About SMS tracking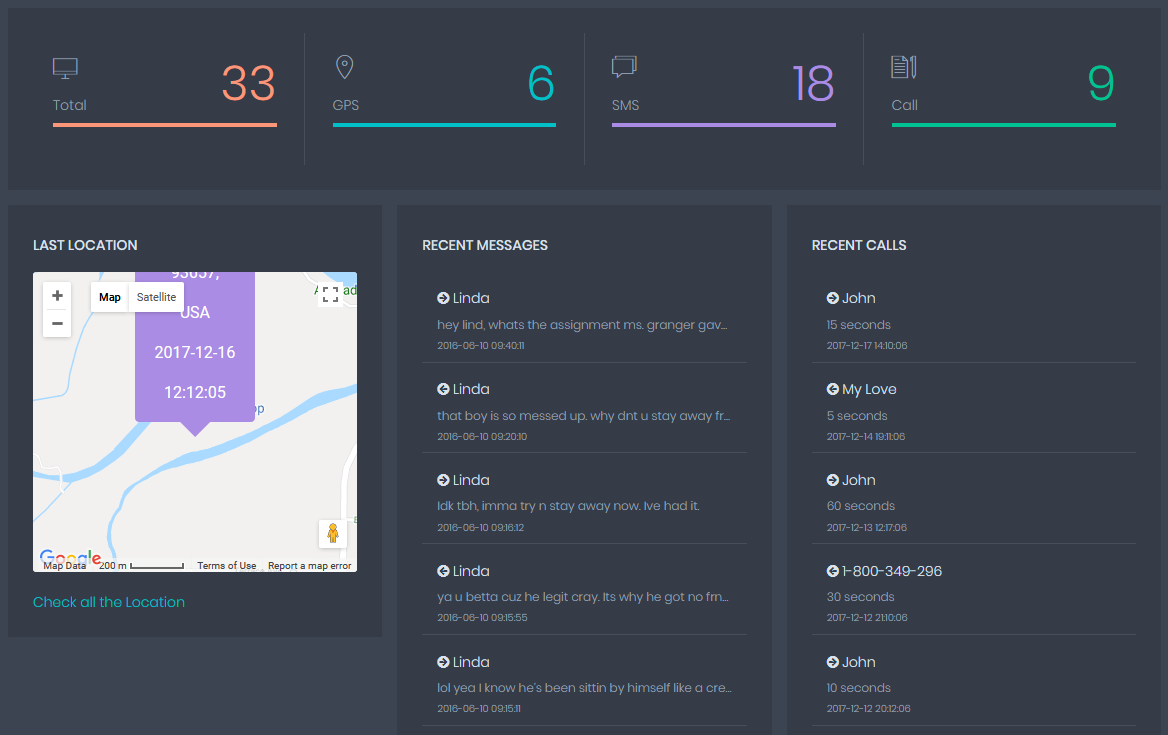 SMS is the short messaging service that is using standardized communication protocol enabling devices to exchange messages that are short texted. The texts that are incoming and replied will be seen with the content. The date, time, sender/receiver info, location, content etc will be seen. If a hacker found any playful text, the one sending messages to the target phone can be blocked.
Features of spy tool
Call logs tracking– The application is designed to spy on every call that is made or is received by the target. Each call log data such as date, time, location etc is easily visible. The deleted call logs are too attained.
Live location viewing– Whether you are tracking the location of the employee or children or spouse, GPS tracking feature will enable you to spy on the real time movements.
Social media application activities monitor- The activities done on various leading social media apps like facebook, instagram, snapchat, twitter etc can be seen fully.
This is all about the application that you should know. You won't find any other best solution than this one.