Way to hack WhatsApp from another phone
Searching the answer on internet, did you get any right solution? We know the answer you have got there, use WhatsApp verification tricks, phishing method, and more. Did you understand them? No, it is natural because these are a bit technical and not everyone has good understanding of technology. Everyone wants a simple solution without any risk and hassle. However, searching for a best method will take time. Not everyone can spend hours on searching and analyzing every method. For such busy users, the solution is to believe on the popular spy apps.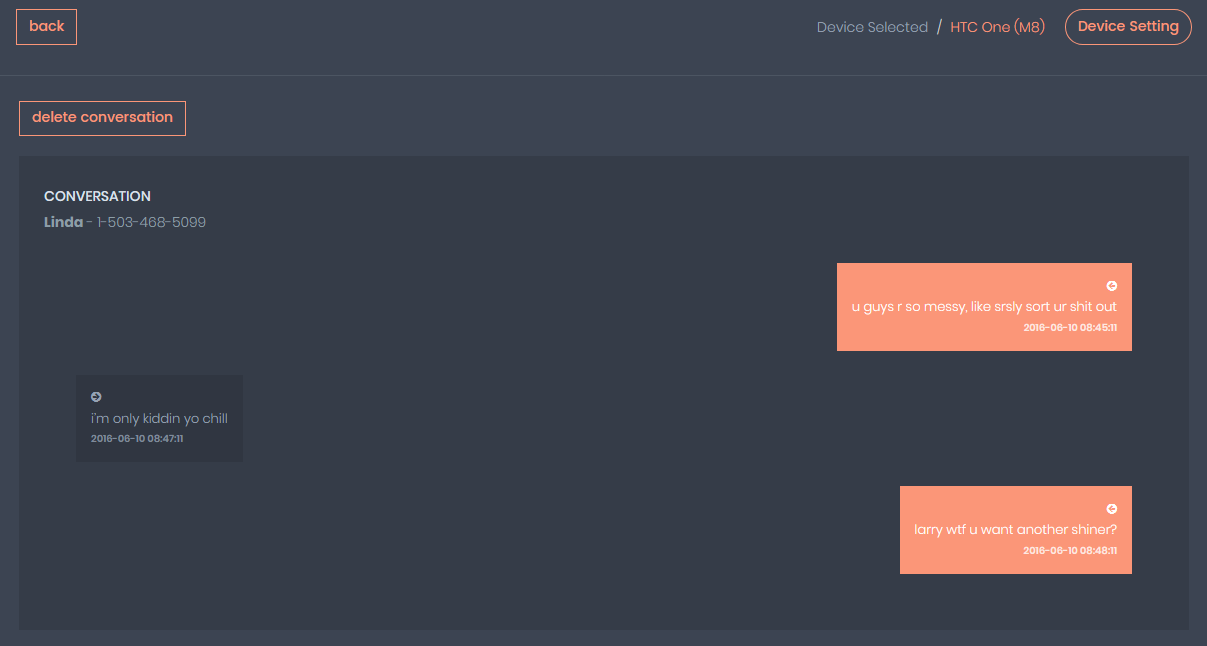 Spy apps, what are they? A spy app is not a new word for hacker because they use such techniques. They have become so popular that today one can get hundreds of apps. Well, you don't need hundred, one single app is sufficient to monitor WhatsApp from another phone. Did you get any reliable app on internet? No, if then here is expert's recommended application that knows your need.
Try MobileTracking
MobileTracking, a complete watchdog on their WhatsApp account is available for free. It is the choice of wide range of users because it has some impressive functions for you.
Why use MobileTracking
Many users want to know how MobileTracking is a best spyware. Well, we will not let you blindly trust any app. You have right to know reasons behind its popularity.
Safe- safety is first priority of MobileTracking and of course yours. WhatsApp hacking should be safe as you don't want other users to find out about your secret spying. Moreover, if the user is not so close to you then revealing your secret will put you in big trouble. Therefore, MobileTracking keeps you safe.
Powerful features– for hacking WhatsApp completely you need some good features. MobileTracking got all of them. WhatsApp chat, friend list, contact, status, profile and about the suspect is not a secret with MobileTracking. What's more? spy calls, messages on other social media accounts, history of internet, location tracking, cracking any password, calendar, address book and more is possible with MobileTracking.
Affordable- MobileTracking is within reach because it's free. The free package comes with facility of tracking above said information. Whereas other apps take subscription fees from users. It is taken on every month. It is thus not a choice of other user whereas MobileTracking is free.
Reliable- users can rely on MobileTracking without having any doubt. It secures the information and identity of users and suspect. Where other app has deals with third party or they are not secure thus trapping them with third party software is easy. It is 100% reliable.
Trusted by many– all users of MobileTracking have complete trust on it for stealing information of other users on WhatsApp. Since it is widely trusted app on list of top spy apps for hacking WhatsApp, thus you can also get it.
Get the app from https://mobiletracking.app/download-phone-tracker-app/.
Steps to download
Downloading is easy, but if you still need a guide to know the steps here it is.
First visit the site and check out the features. Once you are sure that you need it go on with following steps. Also, check the demo it may ease you more.
Do some settings, click on settings icon. Check on the download from unknown sources. Check out from package verifier which will obstruct the download of MobileTracking on device.
Move on to the download procedure. Hit the download button.
After few seconds, the installation will start.
Give access asked by the MobileTracking such as access the gallery, contacts and other apps on device.
Accept the terms and conditions. Read the privacy policy.
Create account; give your name, email and other information asked.
Set a secure username and password
Login on control panel of MobileTracking by visiting the site given under the download procedure.
Conclusion
Check out which features you want to access. See their activities on dashboard. Save their chats, audio files and videos, contacts and photos. Interesting fact is that no need to access the MobileTracking's account from your smartphone all time. Access it from laptop, PC or tablet.
Don't worry about its compatibility. MobileTracking run on iPhone, blackberry, android and all OS devices out there. This is considered as the latest solution for tracking WhatsApp. It can also as said track Facebook and other platforms. It gives vital information about target which might not be fetched by other apps. Recommended app MobileTracking is now the perfect tool for hacking.